Foundries were one of the first industries to be affected by ventilation and exhaust standards. Harmful levels of pollutants that come from foundry projects need to have highly efficient dust, fume and smoke collection equipment installed to evacuate these chemicals. Donaldson Torit provides a broad range of foundry dust collectors to mitigate air pollutants derived from sand handling, metal melting, casting applications, and oxide pouring. Continuous improvement in dust collection equipment has opened the door for units to be installed that have a smaller footprint and are more maintenance friendly.
Dalamatic Foundry Dust Collectors
Donaldson Torit's Dalamatic series of dust collectors is ideal for foundry applications. They are capable of effectively filtering dust in many types of locations, with two models available: Dalamatic Cased (DLMC), which is used as a standalone collector for a variety of applications, and the Dalamatic Insertable (DLMV), which is typically used near bins, storage vessels, silos, and transfer points. Their heavy-duty construction makes them suitable for foundries that produce large amounts of pollutants.
Modular Baghouses Dust Collectors
The Donaldson Torit Modular Baghouse is another effective method to improve airflow in foundries. These models are reliable, with pulse-jet operation. They include advanced valves that allow for up to 50 percent cleaner air in facilities, while remaining energy efficient. They are also designed to require minimal maintenance.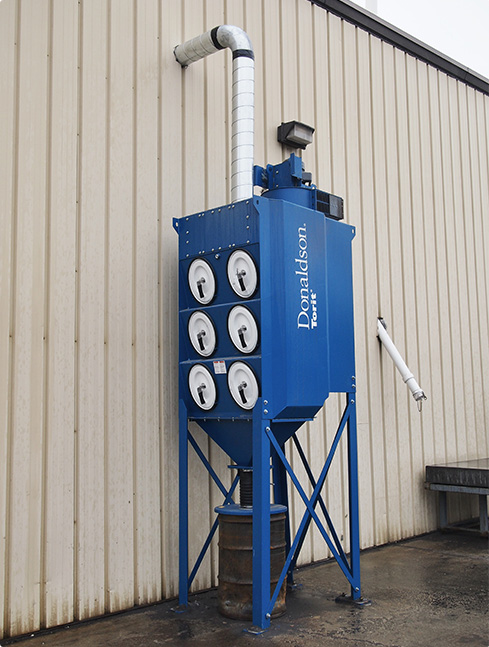 DFO & DFE Cartridge Dust Collectors
Donaldson Torit's cartridge collectors also offer efficient dust collection in foundry environments. We carry both DFO and DFE dust collectors, depending on the needs of the application.
The Donaldson Torit Downflo Oval (DFO) dust collector model is available in multiple sizes with various features. It includes innovative filtration technologies and cabinet design, which make it one of the most efficient foundry dust collectors available. Its oval filter design maximizes its filter life and efficiency.
The Downflo Evolution (DFE) is another efficient dust collector model that uses 40 percent fewer filters than typical cartridge collectors. Its sophisticated design also features a Max Pulse cleaning system that uses 27 percent more cleaning energy, with an Ultra Web Merv 15 triangular filter and an inlet air management system to keep the collector efficient at all times.
Ultimately, using one or more DFO or DFE dust collectors can give your production lines what they need to effectively and efficiently remove dust from nearly any environment. Their state-of-the-art design can add plenty of longevity to existing equipment while also helping to keep staff safe from potentially hazardous industrial dust. You'll be able to see a clear difference in performance with these machines installed in your facilities.
Combine Foundry Dust Collecting Equipment for Optimal Efficiency
OSHA is continuing to establish standards of what materials can be used and produced in most foundry processes. The foundry dust collection equipment we offer can help meet those standards without resulting in large filtering expenses. Use a combination of equipment to keep employees safe and protect equipment from wear by effectively eliminating pollutants. With a system of one or more Donaldson Torit dust collectors from Pollution Control Systems in your foundry, you'll benefit from improved airflow and improved OSHA compliance. We have the top-of-the-line equipment to give your facility the results you want from dust collection systems, with all of the benefits you won't find with inferior machinery.
Contact Pollution Control Systems for a FREE facility evaluation to determine the best dust collector for your individual application. We can help you select the right machinery to install in your foundry or other type of facility. We also carry a selection of mist and fume collectors for operations that produce these hazardous materials. Using one or more of our dust collector units in your facility can greatly improve your operations, helping make sure you have a consistently safe and clean workspace for many years.
Next Steps
Contact Pollution Control Systems today to set up a FREE evaluation so we can determine the steps to cleaner air!